Welcome back, friends! You're just in time for the second edition of the Weekly Woof!
PERSONAL NEWS
It's been a whole week since I put the site up. I appreciate the kind words I've receive SO much! I went through the Neocities pages and followed everyone who tagged their site with #zonelets. I want to be involved in this community and learn more about my neocities neighbors.
I tried Ramune' for the first time this week and I'm sad to say I can't really recommend the original flavor. I didn't know they weren't re-close-able but the little marble is very neat. I turned my bottle into a pothos planter. Aesthetic.
FRIDAY VIDEO
I found this video entirely by accident. One day it popped up on my Recommended Page and I thought "why not?" I already really liked Mario and learning about old games. This was fascinating for me and a nice surprise--especially since I had never seen any of the iceberg images that the author references. I 100% agree about Wet Dry World. Damn.
ARTIST OF THE WEEK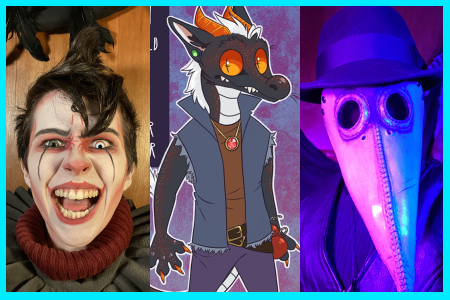 Rinley Coyote is a long-time pal of mine and more than deserves a featured spot in the Woof. He creates digital and traditional art, works as a scar-actor in local haunts as well as showing up on platforms like Tik-Tok to delight audiences with his many faces, and is a pro at fabricating props. Oh, Rinley, is there anything you can't do?
You can find/commission/watch/ Rinley here: Twitter, Tumblr, TikTok
TUMBLR TALES
I thought I'd bring you a festive story this week. This story is from tumblr user mydogisabutt. I think about it often. It's short and sweet, but the story begins with…
"i worked at build-a-bear in downtown disney and one time a guest came with a grinch..." To find out what happens, visit the original post HERE.
That's a wrap!
If you enjoyed the Weekly Woof, share it with a friend! If you have any questions or concerns, mail the webmaster at dogdotexe.zonelets@gmail.com. Have a nice night!