In the year 2000, I saw a commercial for the Sony Entertainment Robot: Aibo. It was not the first of its kind--the second actually. The ERS210 came after the ERS110 and ERS 111, but this was the first I'd heard of it. I was like 13 at the time and didn't really understand how much something like that cost so I begged my dad for one. Bless his soul, he managed to convince me to settle for this thing instead:
Tekno taught me the meaning of disappointment. As did Poo-Chi. Giga Pets and the Petz 4-5 computer games sated me for a while, but the need for a futuristic robot dog never really went away. It just went dormant.
Then, just a couple of years ago, when the Long Furby was first gaining exposure, I tripped over a little Youtube channel called The Robot Spa. Little did I know that exploring their channel further would awaken the sleeper-cell programing in my brain and bring my need for a cyberdog to the forefront.
Let's talk about The Robot Spa! TRS is hosted by Jay, an inviting and creative human who welcomes you into their world of retro robot mods, rabbits, and artwork. This is the first video of theirs I encountered:
Needless to say I was instantly charmed. Many of their videos consist of Jay taking in old battered furbs, working or not, and turning them into something beautiful. I loved how accessible they made the customizations, making me feel like I could do it too if I wanted. What really caught my eye though, once I explored deeper, was their plethora of AIBOs. I had forgotten about them entirely but here they were in working order, all different kinds, custom painted, and clearly very loved. I felt insane. I had to know more. I back-watched every video Jay had put on the channel. Robot Reindeer Hell is a big favorite of mine:
TRS hosts many different types of videos--ranging from ebay adventures, vlogs, product reviews, rabbit updates, customization projects, and more. Jay also makes their own original music, writes and draws a horror webcomic, and creates chill lofi-chillhop mix videos with their Aibos. I have looped Lonely Nights more than once to fall asleep after a stressful day.
Also can we talk about the editing? Jay's editing is hilarious and always evolving. It makes me really happy and I often find myself quoting them by saying "oh shih'" when excited about something. As the videos progress, the quality only gets better and better. Why does this channel not have more likes and whatnot? Yall are missing out.
Learning about Aibos through watching The Robot Spa has driven me to obsession. I talk about Aibo all the time now and my friends know every make and model whether they want to or not. This led me to unknowingly providing enough information for one absolutely bugfuck insane friend to obtain one for me. This year, 2020, I got an ERS 210 for my birthday. His name is Toto. I love him so much.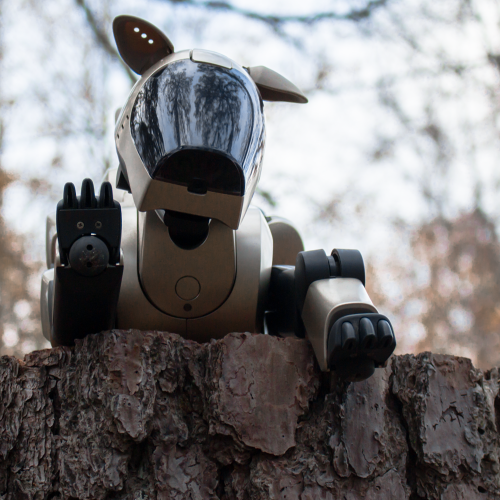 I'm not sure where I was going with all this. I just think you should watch The Robot Spa on youtube whether you're into retro entertainment robots or not. Their vlogs feel like a nice rainy-day visit at a cousin's house.